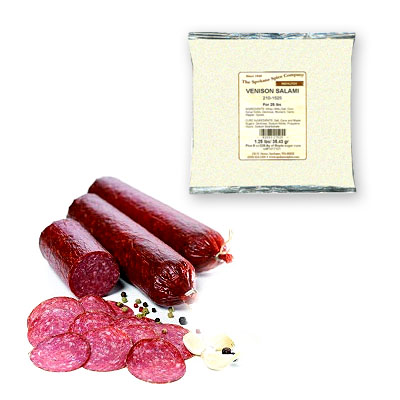 VENISON SALAMI SEASONING For 25 Lbs
SKU: 210-1525
$16.99
This venison salami recipe is different from a traditional salami recipe. It uses ground venison mixed with pork trim and the meat is smoked instead of dry cured. Beyond that, you end up with a fine product that could easily share the table with the finest Charcuterie plates. Designed especially for use with wild game. This package is enough for 25 pounds of meat. This is an excellent use of your venison trim and stores easily in your fridge, wrapped in butcher paper. Give it a try this deer season.

Ingredients: Whey (Milk), Salt, Corn Syrup Solids, Dextrose, Mustard, Garlic, Pepper and Spices.

Cure Ingredients: Salt, Cane and Maple Sugars, Dextrose, Sodium Nitrite, Propylene Glycol, Sodium Bicarbonate.