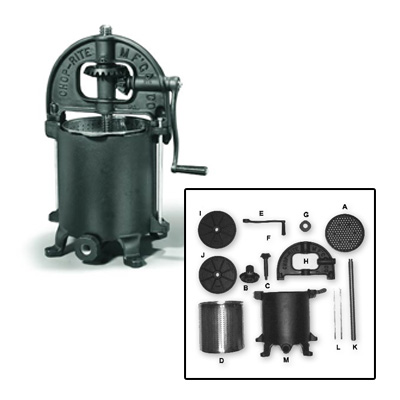 SAUSAGE STUFFER CHOP-RITE 8 QT
**Parts Available!
SKU:
Model #35 Cast Iron Sausage Stuffing Machine..
8 Quart Capacity
Holds Roughly 16 Lbs of meat!
*NOTE: NOT ALL PARTS ARE AVAILABLE!!
SPECIAL ORDERS
So You Found A Used One But It Is Missing Parts! We Might Have Them! The following Parts May Be Available For The 8 Quart Stuffer:
#1: Arch---
#2: Optional Small Plunger Plate---$59.79
#3: Large Plunger Plate---$59.79
#4: Body---
#6: Optional Strainer Basket---
#7: Optional Strainer Plate---
#8: Rack Screw---
#9: Side Bolt Left---
#10: Spout Holder---$19.98
#11: Stuffing tube (3/8", 1/2", 3/4")---$15.99 each
#12: Side Bolt Right---
#13: Crank---
#14: Small Cog Gear---
#15: Large Cog Gear---

Please call for availability and pricing on these parts. 1-800-776-9921
Call for Pricing!