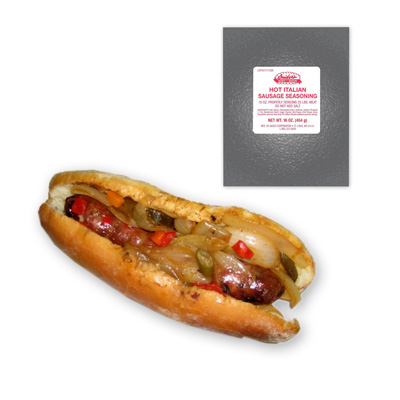 Snider's Hot Italian Sausage Seasoning For 25 Lbs
SKU: 217-1206
$11.40
SNIDER'S HOT ITALIAN FRESH SAUSAGE SEASONING:
16 ounce bag will season 25 pounds of meat.

This is the classic Italian blend for sausage, this is the recipe to what is sold throughout the United States as "Italian sausage." This makes a pork sausage that's often added to pasta sauces. Snider's blends are flavored with garlic and whole fennel seed. The hot Italian sausage also has a shake or two of crushed chili peppers.

Ingredients: Salt, Spices, Dehydrated Onion, Dextrose, Sodium Phosphate (7.7%), Dehydrated Garlic, Sugar, Paprika, Red Pepper, Chili Pepper, Spice Extractives And Not More Than 2% Silicon Dioxide Added To Prevent Caking.