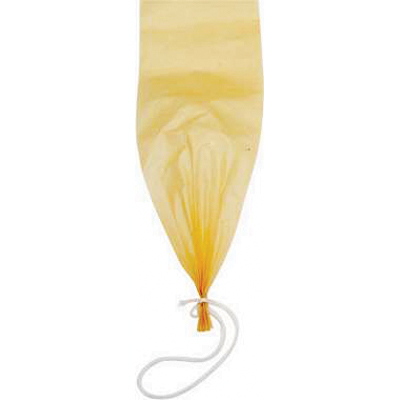 Casings Fibrous 1 1/2 x 30 Clear *OUT OF STOCK
SKU: 120-0043
Fibrous casing is an inedible casing made for use in the smokehouse or cooker. Smoke in the casing, and remove before eating. All casings are pre-stuck (pin pricked) to allow for better smoking and eliminate air pockets. The casings are closed on one end and come with a cotton loop for hanging when cooking. Before use, soak at least 30 minutes. Soak tied end down to eliminate trapped air.

The fibrous casing can be stuffed directly from the meat grinder. For larger casings (over 3.3" diameter), the use of a sausage stuffer is recommended. After filling, close opened end with a staple gun, or with cotton twine. Next, rinse thoroughly, hang in cooler over night to help develop flavor. Next day, cook or smoke.

The fibrous casings are all a light beige color, however we do offer a smoked mahogany color in one size only, the 2 1/2 x 24".

One casing will hold 2.5 pounds of sausage.
Call for Pricing!